This was the last big year. Starting in 2016, the World Domination Summit will limit ticket sales to 1000 people, instead of the 3000 people it's been for each of the 3 years I attended.
My friends organized themselves into 3 groups of people this year:
Ticket holders
Ambassadors
Un-conferencers
There were so many peripheral events happening around WDS, many people chose to "un-conference" and attend these meetups and academies, without getting a ticket to the actual event itself. I can see why; after a couple of years of inspirational speakers, you get off your duff and start doing something, and you don't need to rehearse that launchpad again.
That said, the speakers are always amazing. When the videos of them are released later this year, I'm going to spend a weekend with a bottle of wine and watch all the ones I missed.
The best reviews of WDS2015 speakers:
I caught some of Derek Sivers' talk, and he blew me away. I also heard Lewis Howes made a big impact on lots of people, but I didn't see him talk; I spent a lot of time manning the scavenger hunt table, and checking on the clues to make sure they stayed up all weekend. (Last year's Unconventional Race had a lot of clues go missing, so I was real particular this year about making sure they all stayed put.)
This year I missed plenty of speakers for a good reason: technically I was an ambassador. Because I was doing the scavenger hunt for the Unconventional Race (read all about that here), I had an orange badge, which was my all-access pass to anywhere I wanted to go, in any venue. The end result:
I never had to wait in line.
I couldn't have won the #wds2014 Scavenger Hunt last year without the great @caelanmac!! So glad to see you again! pic.twitter.com/PqISPuuRn4 — Laura Lynn Johnston (@LomoLynn) July 11, 2015
At the opening party, I had a bundle of wooden globe pieces in my charge scattered around one section of the warehouse, and I had just come back from the espresso/qi gong break I needed to get set for a night of interacting with a crowd. When I went to get a glass of red wine, to limber up my lips, I saw something that gave me this visceral memory from years past: the lines.
That had always been a core part of the WDS experience, standing in line and chatting with new people. It was never tedious, because almost everyone I met was interesting. But this year, having an Ambassador badge meant I never had to wait in line. If I wanted access to the venue, at any time, I could trot myself in through the side door and go anywhere I wanted to go. Since I didn't have any official ambassador duties other than the treasure hunt, this gave me all-access to anywhere I wanted to go during all of WDS.
I even got onstage.
Getting onstage is a bit of a fetish for me. I really like being in front of a crowd, and it gives me a thrill like nothing else does. While I didn't get to be one of those amazing speakers at WDS this year, I did get fifteen seconds onstage, and one line:
Heck Yeah!
When Jedd and Michelle announced the winners for the Unconventional Race, they also revealed where the final clue for the Scavenger Hunt was hidden: at PNCA, up by the gargoyles.
"How did that big piece of wood get up there?" Michelle asked the crowd. "Our racemaster, Caelan Huntress!"
I ran across the stage, struck a superhero pose and said, "Heck yeah!" and ran off. This bit was a reference to a talk given a few hours earlier by Vanessa Van Edwards, when she had everybody stand up in their seats and strike a superhero pose, and say "Heck Yeah!" at the top of their lungs. I got to do it again, in a cape, and that made me feel pretty awesome.
Funny story – 'Heck Yeah' vs. 'Fuck Yeah'
The day before this happened, before Vanessa's story, and before I knew I was going onstage, I made an offhand reference about getting onstage and saying "Fuck Yeah!"
As part of my racemaster duties, I went around hiding easter eggs throughout the venue. I filled them with drink tokens, Chinook Book coupons, and other little prizes in them. I was talking with a friend about how now, with marijuana now being legal for the past two weeks in Oregon, I could legally leave joints and buds around for people to find. But without permission from the WDS team, I rationalized against it because, "Doing something like that would be like getting invited onstage and starting your talk by saying, 'Fuck yeah!' It's not really illegal, but it's not that cool."
And 24 hours later, I had the opportunity to say 'Fuck Yeah!' onstage.
I decided against dropping the F-bomb in front of 3000 people, and I didn't leave easter eggs full of marijuana for just anyone to find. But I did hand-deliver some herb-filled easter eggs to worthy people at the closing party, and I could do it legally in Oregon, because at long last, marijuana is winning the drug war.
Leaving so many prizes for people to find, and giving barely-legal consciousness-altering treats to others, it made me feel aligned with the three core WDS values:
Community. Adventure. Service.
The more I find myself fulfilling these three values at WDS, the more fun I have, and the more fun I help others to have, as well.
And sometimes, that gets infectious.
A SUPERHERO SIDEKICK
When this year's WDS started, I didn't plan to wear a cape and run around doing parkour everywhere. It just sort of…happened.
Even more surprising, somebody started following me around.
At the closing party, there was no bag check. Laura Jones came up to me and asked if there was anyplace where she could stash her bag. Indeed, I knew of a place that I always used in Pioneer Square during WDS parties. "But it's only for superheroes," I warned. "Are you up for it?"
She got a manic gleam in her eye and nodded. "Follow me," I said, and wound my way behind the event tents, climbed up a pedestal, and showed her the secret hiding place on a tower above the party.
We ran all around Pioneer Square, doing parkour and climbing stuff, and we even found her a cape.
There was a wonderful woman dancing with a long, flowy red scarf, and we told her our plight: a superhero without a cape! Knowing the power of innovative brand marketing, Sheri Fitts graciously donated her cape to make my sidekick super.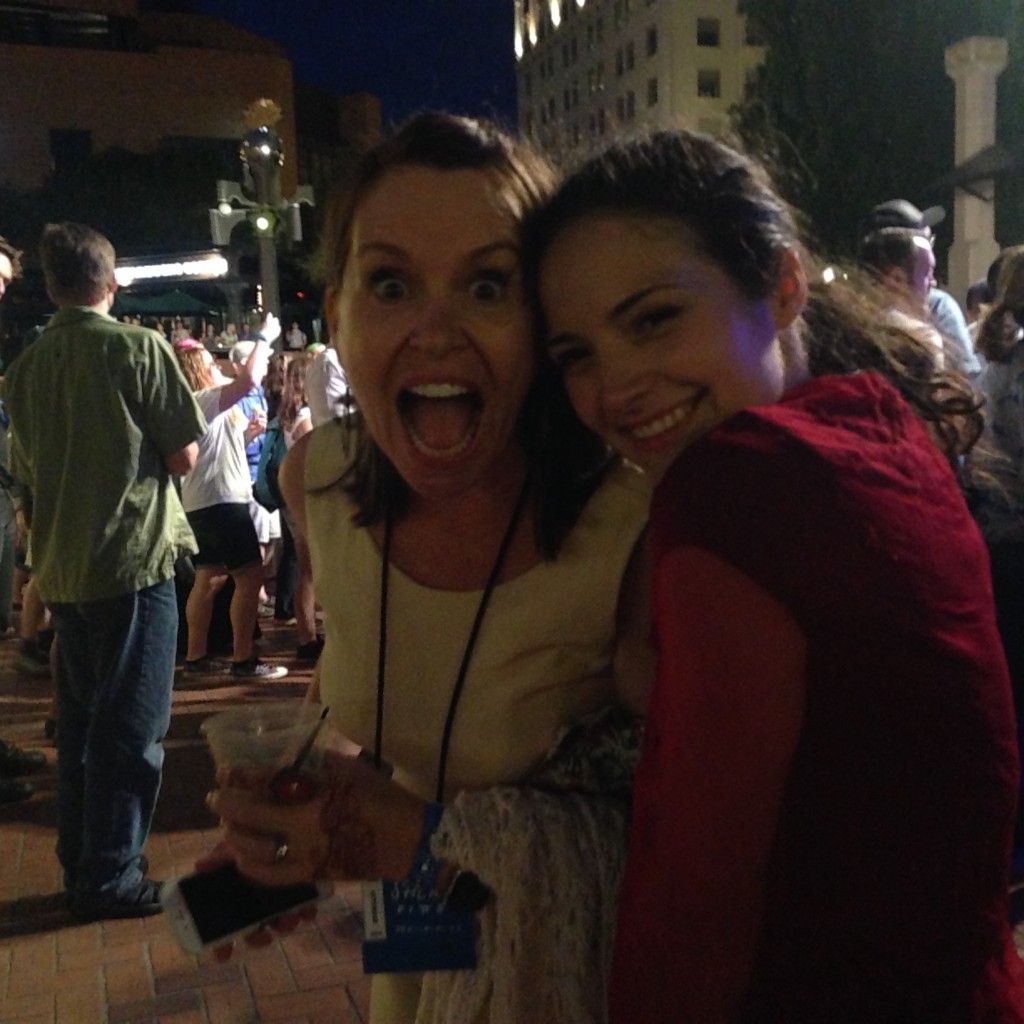 This was one of those connections that happens all the time at WDS; amazing people get together, and we help each other elevate. That's why I keep coming back to this tribe, year after year.
Related adventures: