Indi turned 13, and it was wonderful.
Thirteen years ago, my daughter was born. At the precise moment of the anniversary of her birth, it also happened to be the precise moment of the New Moon.
This magical woman stood at the center of a sacred circle, as she left childhood behind.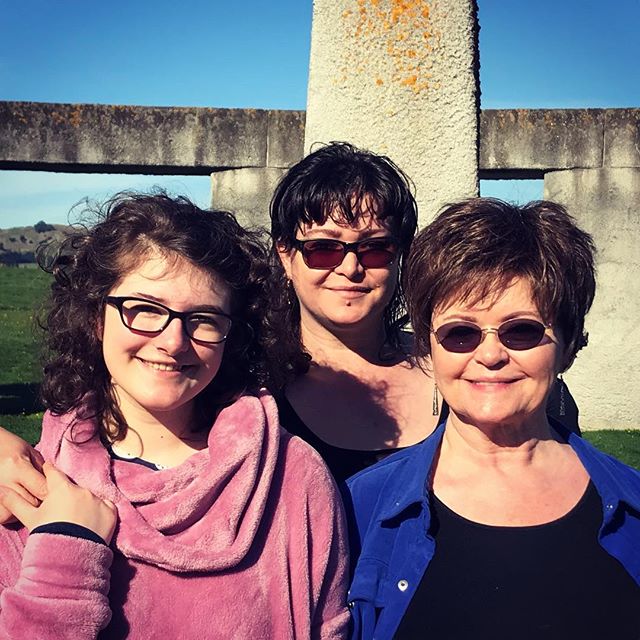 I am so honored to have this wonderful person in my life, and I am grateful she has such powerful and wise women as her mentors and her guides.
And, of course, she got presents.
Pictures from the road trip
Published This Month
People First Project
30 conversations in 30 days
Almost on a whim, I launched a People First project. It was right after I watched a great 8-minute video by Andrea Leda while I was having lunch, where she talked about her own People First project. She challenged her membership community, Awakened Practice, to do their own. With her worksheets and templates, I was able to launch mine in an hour. After adding in a few social media posts and sending an announcement to my list, and I've got plenty of conversations scheduled for next month.
ConvertKit migration
I've been on Mailchimp for years, even though the composition experience in ConvertKit is 100% superior. For years, I've put off migrating to ConvertKit, because their WooCommerce integration is so shoddy. But this month, I found the time to implement the workarounds I needed.
It's the kind of project that needs a couple of afternoons, and on the last week of the month, I set up dozens of tags and migrated (and revised) all my favorite email automations.
When I deactivated all the Mailchimp add-ons to WooCommerce and Gravity Forms, fully detaching my old automation system because the new one was set up and ready, then I felt a great deal of satisfaction for completing this project.
New Products
I listed a few new products in my store:
The Stellar Platforms Template Library
For the past few months, I've been documenting my work. As I do the various things I do for my clients and for my own projects, I keep open a separate Google Doc or Trello board where I can take notes, so I can templatize the process.
It's been really rewarding, because now, I can re-use these templates in my work, and it's made me much more efficient.
At last count, I've got 18 templates ready to share, so I made a landing page for each one.
These are they:
Client Work

I launched a big new Facebook Ad campaign for a client. I don't do a lot of FB ads, because the interface is so unpleasant. I'm surprised that for a company so dependent on advertising revenue their Ads Manager is such a pain in the neck to work with.
It's not my strongest area of expertise, but because it complements the kinds of sales funnel work where I really excel, I sometimes find myself running campaigns, and once you get past the difficulties of the interface, managing the metrics is pretty fun.
In addition, I did a bunch of work in another peripheral area where I don't often get to play: apparently, I make Wikipedia pages now.
I've always been a little standoffish with Wikipedia. When I first started out in digital media, 10 years ago, I could never get anything published there. I was a high volume blogger, and I didn't like another website telling me what I can and can't publish. Wikipedia editors are notorious sticklers for what is "Noteworthy."
Just because you think you're special, it doesn't mean you belong in the Encyclopedia, and all that.
Then again, most of my clients back then were just starting out, and they really weren't that notable. Nowadays, my clients are legitimately noteworthy, getting lots of press and doing truly unique things.
It turns out that the copywriting, research, and coding skills I have learned have made me a pretty decent Wikipedia editor.
After years of being a web designer and marketer, Wikipedia runs counter to some of my instincts, but that's good – friction is how you stay sharp.
Pretty skies and sunsets
Metrics That Matter
May was great. I started off the month with a 3-day birthday trip exploring New Zealand, my business is going great, my health is better, we spent the whole month with Johanna's mom visiting, and I made more money than I spent. My goal is to keep this years' resolution to have my income exceed expenses for 6 consecutive months – starting now.
Net Profit last month: $ 339
Money saved last month: $ 1,100
Hours of exercise last month: 11.5
Average weekly hours worked last month: 32.70
Days journaling: 14 / 31
Hikes: 9
Goals for Last Month
Goals for This Month
Fill all the spots in my 90 day Mastermind group
Keep a Victory Log at the end of the day 20+ days for June
Pay off one credit card in full
Take each kid on a solo date
Thought Leaders Book Club
I'll end this month's post with a digest of one of my most fun projects so far this year: a 5-week book club to cover the 5 sections of the Thought Leaders Practice by Matt Church, Peter Cook, and Scott Stein.
Each one of the following photos will cover the topics, opening questions, and key takeaways from each of the 5 sessions.
This book club was so fun, I'm thinking about doing another one later in the year. Probably Company of One by Paul Jarvis. And I want to record the conversations, to make a little book club video series for future readers of the book. If you're interested in joining me, say so.