The Huntress Clan completed our 11th move in 11 years on Samhain, which is April 30 in the Southern Hemisphere. We have bounced from country to country for a decade, going from town to town, looking for a place we might call home. With this latest transition, we may have found it.
Many of these moves were to places that were possibilities for long-term settling down; but everywhere we have stayed has had weather, or traffic, or people, or poisons that we decided to leave. We have become simultaneously flexible and picky about our living conditions. We can endure all sorts of inconveniences in the near term, because we know we have the rootlessness to pick up and go somewhere else when we want. All of our inconveniences have all been temporary, and every time we move, we simply trade one set of deficiencies and advantages for another.
Sampling so many homes has let us refine what we want.
Our last home was in wine country, in a small town where Kiwis drive to get to a weekend getaway, but few people settle there. We have always been comfortable in tourist towns, where small communities of regulars are used to seeing strangers come and go. Tourist towns have nice amenities, to attract tourists, and they have a host-of-the-party vibe that I appreciate, but there is ultimately a hollowness to their communities because so many of its members are temporary.
We needed somewhere to land in our last house, because we were walking away from a difficult situation. The last 12 months were recuperative, but the home was a vacation getaway, and it wasn't built for the heavy daily living that comes with having boys and dogs. So we moved on, again.
This is the caravan we took between the two islands.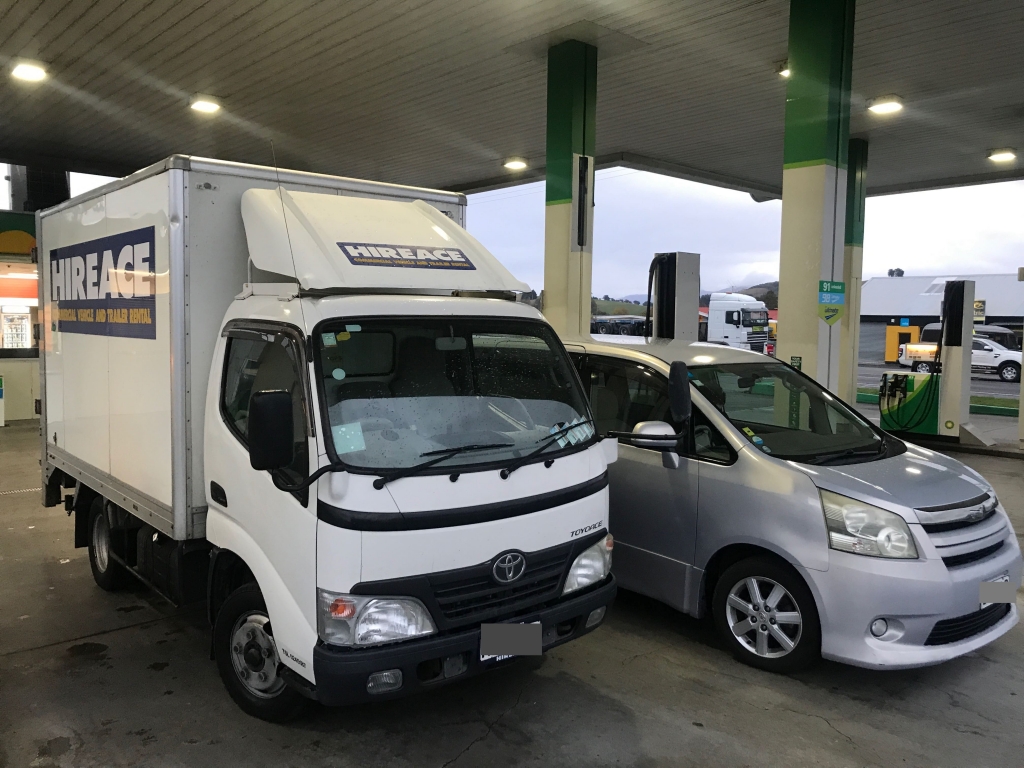 While we have completed many moves in the last decade, this was my first involving a boat. I had to get a moving truck from Wellington on Day Negative 1 of the move, and drive it out to wine country, over the Remutaka mountains. Then we packed on day 0. On day 1 we crossed the Cook Strait, and on Day 2 we arrived in our new home. (Day 3 I had to drive the van to Christchurch to drop it off, and took a bus back, so it was a 5-day move altogether.)
The Interislander Ferry takes 3.5 hours to cross between the North Island and the South Island, between Te Ika-a-Māui and Te Waka a Māui, the two islands of Aotearoa. We were able to park our moving truck among the big rigs and camper vans:
During the boat ride, I took a printed copy of the 4th draft of my manuscript for my upcoming book, Marketing Yourself, and went through it with a selection of highlighters to decide what to cut, keep, update, and revise. It felt symbolic to go through such a meaningful revision during a meaningful leg of our trip.
View this post on Instagram
Here are some photos from sightseeing on the boat:
During the rest of this 2-day road trip, we had to schedule hourly breaks for the dogs. We did not want to deal with biological hazards in the minivan in addition to keeping everyone fed and rested, as well as keeping track of all our possessions collected into 1 of these 2 vehicles for a couple of days.
Planning the potty breaks was a great homeschooling exercise. A week before our trip, I took a map and a smartphone, and had the kids help me calculate driving times and find parks or rest stops or highway intersections where we could stop every hour to stretch the legs of our 2 big dogs.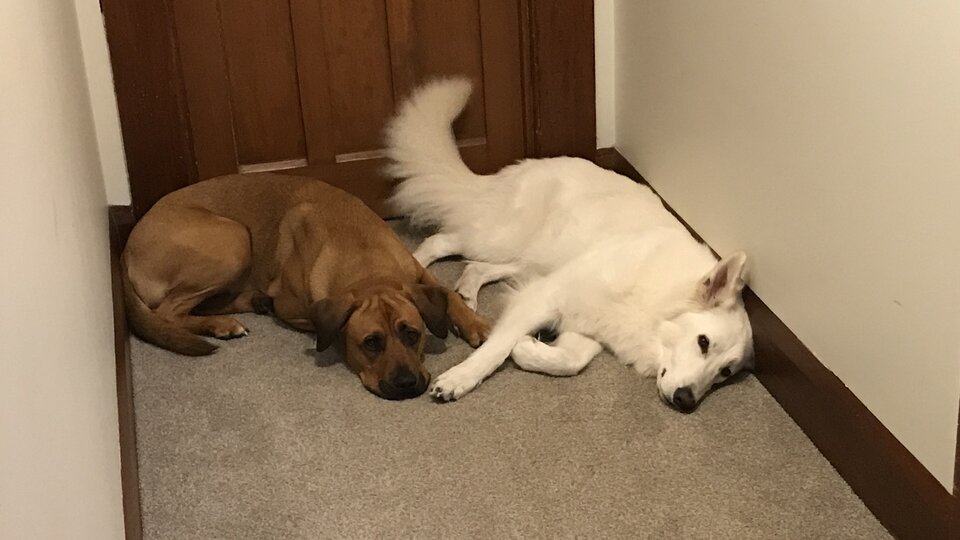 11 Lessons from moving 11 Times in 11 Years
1. Whenever possible, overlap rent.
Having two places at once allows you to move in stages, with multiple small trips, and you can move your daily living essentials (kitchen, laundry, and toiletries) at your convenience.
2. Pack a day bag for every member of the move.
Overnight supplies, pajamas, personal items, and internet devices can wreak havoc on your move if you pack them too early. Have a special bag for personal, easy access, and keep it with you in your seat on your travels.
3. Be generous when planning travel time.
Expect delays. Structure in extra breaks. You can always get ahead, and reward yourself with extra sightseeing that rejuvenates you. But falling behind schedule will increase your stress, at a time when you are especially vulnerable.
4. Start packing months in advance.
Deep storage, seasonal, rarely-used possessions still need to be processed before a move. They might need to be separated, or cleaned, or sold. Start all that early.
Get down to bare essentials one week before moving day.
5. Buy dozens of identical plastic containers.
Stackable, uniform, indistinguishable repositories for stuff make the volume manageable. If every box is a different size, it presents a different choice every time you move it. If all your boxes or the same size and color and shape, your choices are exponentially increased.
6. Pack books in small boxes.
Books are heavy, and anything heavy is easiest in a small box. A big box of heavy things becomes the hardest difficulty to handle during the move. Splitting your biggest and heaviest box into many small boxes diffuses your difficulty.
7. Throw a housecooling party.
The opposite of a housewarming, when people bring new gifts to your new home, a housecooling is when you give away gifts to your friends. Furniture, crockery, odds and ends all for sale for a dollar each. Lighten your load.
8. Eat frequently with easy food.
Keep your body fed and watered. Skipping meals and getting hangry mid-move just sucks. Having all your fave snacks on hand, to pick-me-up when feeling down, keeps your momentum and your attitude positive. For most people, eating frequently means going out to eat. Pay someone else to handle cooking and dishes. For people with hard diets (like me), plan a menu in advance for moving week, and prep as much as possible 1-2 weeks before. Keep lots of rations on hand.
9. Designate a packing room.
In the old house and the new house, use one room for boxes. On the way out, it gives you pre-Tetris planning. On the way in, you can isolate the chaos to one single room, which protects the rest of your new home from overwhelm.
10. Complete unpacking one bedroom first.
Having a place to retreat, and nap, and rest, and hide, gives you a sanctuary from the disarray. Stepping out of chaos after a move is a valuable treat.
11. Stuff doesn't matter.
In the Craigslist age, furniture and appliances can be replaced easily, and the cost of refurbishing a house is offset by moving a smaller volume of stuff. Keep the sentimental, replace the functional, so you don't have to move so much stuff.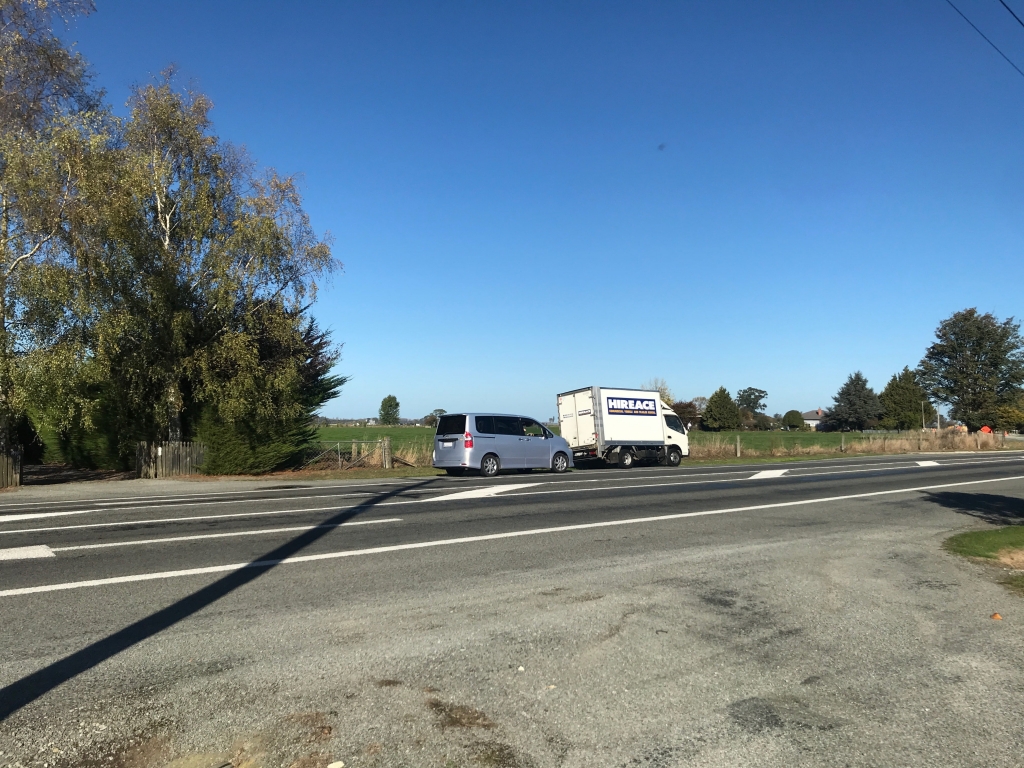 We took a road trip to the South Island last year to find our next town. We have lived in a few different towns on the North Island since we moved here 4 years ago, and we did not find our spot. In November we took ten days to tour Queenstown, and Dunedin, and Wanaka, and a few other towns on the South Island on our shortlist. We ended up moving to a nice little place in none of these places, in the kind of serendipity that often shows up when we are being gently guided to the next adventure fate has in store for us. We made a side trip to this little tourist town on the ocean, and it ended up being the place we moved.
This tiny little town has plenty of cafes within walking distance, which is something that's important to us in a place where we live. Being able to walk to the grocery store, and deep into nature, has always suited us in the past 11 moves, so we now lean into that preference whenever we find a new place.
With the quarantine shutting down much of the world, there is nowhere safer to be than in New Zealand. Our island borders functionally close us off from the rest of the globe, and covid has never gained a foothold here. Whenever we do have an outbreak, it is usually in Auckland, and in our tiny little town on the edge of the ocean we are so far away away.
I like that distance, and I like where we have landed. I could see myself staying here for a while.