Directly after I wrote about the Darkest Days of the Year, my experience of this year's winter in the Southern Hemisphere, I spent two weeks working from bed with a winter flu. Then, as soon as I recovered, I flew to the Northern Hemisphere for a week of summertime.
I didn't know I was going north for this trip.
One of my clients is Mike Rayburn, the motivational comedian with guitar who was the co-chair for the US National Speakers Association conference this year (#influence19). The conference happened last weekend in Denver. (I blogged about the conference on my professional blog; this post is more about my trip and my month.)
When we were talking on the Thursday before the conference, he was lamenting the loss of one of his speakers, who had to drop out because she broke her kneecap. Finding someone on such short notice, he said, was proving impossible.
The topic of her talk was "How to Monetize your Thought Leadership." It's exactly what I work on with my clients.
"What if…I flew up to Denver to give that talk?" I offered.
He said, "If you fly here from New Zealand, the spot is yours."
So I bought plane tickets. I flew 32 hours from New Zealand to Denver. I networked with 1500 professionals in my target market. On Monday morning I taught '7 Steps To Turn Your Signature Speech Into A Signature Offer.'
Did I have the money set aside for a trip like this? No.
But I found a way to make it happen, because opportunity knocked, and the short-term costs of taking this trip will be vastly outweighed by the long-term benefits.
When opportunity knocks, I've learned, just go through the door.
And I'll tell you, as much as I appreciate this professional opportunity, the unexpected week of summertime was the BEST. This winter has been long and cold in New Zealand, and on this trip, I picked a sunflower in the summer sun. It was marvelous.
I collected four bucks from four different countries.
Working while travelling
I used to really enjoy working from airports. Maybe I'm getting older, or my trans-Pacific trips have simply gotten longer, but I've found it's not so easy for me anymore.
After a few days of continuous travel, the whole world of time enters a blur. There's my energy, and I can rev it up or calm it down, but it's completely disconnected from natural cycles such as the rhythm of day and night. I'm either 'on' or 'off' or grades in between.
Here's some videos I made during my trip:
I wrote in more detail about my #influence19 conference recap on my professional blog for Stellar Platforms, my digital marketing agency.
Quotes that mattered to me this month
"The greatest value you can add is to become more of yourself." – Sally Hogshead
"As you think, so shall you become." —Bruce Lee
"Richness is not about what you have. It is about who you are." – Bob Proctor
"Your big opportunity may be right where you are now." —Napoleon Hill
"Working at a startup is one big lesson on what you should actually worry about." – Trevor McKendrick
"When you're going to the market with what you're selling, everybody doesn't care." – Seth Godin
"The job of an expert is to be relevant, meaningful and engaging." – Peter Cook
"Book writing: You have to be dumb enough to attempt it and smart enough to pull it off." – Austin Kleon
"The muse exists, but she has to find you working." – Pablo Picasso https://t.co/AN8za3nWyf

— Caelan Huntress (@caelanhuntress) July 14, 2019
Published This Month
I was surprised to have nothing new published this month. I spent the first half of the month in bed, and the second half flying and networking, so I suppose it's not a surprise; but I'm used to having a few links every month.
Every month in 2019 I've been publishing a round-up on this blog, and usually I have 3-5 links to share; it's kind of startling that I've got nothing new here. At least I did some big thinking.
Metrics That Matter
July was a tough month. After having my best month to date in June, my revenue went below my expenses, partially because I was down with the flu for two weeks.
I learned 2 interesting things:
Even when ill, I can work 35 hours per week from bed
Working from bed sucks the life and energy out of me
This lesson was reflected during my travel plans. I used to love working from airports, but this trip, I hated it. I wanted to rest as much as I could, to recover from the flu, and focus on networking and relationships; my client hours really took a hit in July.
Net Profit last month: $ 0
Money saved last month: $ 200
Hours of exercise last month: 5.5
Average weekly hours worked last month: 35.5
Days journaling: 6 / 31
Hikes: 1
Goals for Last Month
Income more than expenses – fail. I was $7k under.
Create new Q4 Mastermind offering – fail. I ended up ditching the mastermind in favour of a new 12 week program.
2 hikes per week – fail. The flu and the trip really knocked me over.
52 Pink Sheets – fail. I completed 7.
Even though I failed in all my goals for last month, I don't see this as a loss. When you pivot quickly, old goals often fall apart, and that's the price.
Goals for This Month
Launch new 12-week program
Follow up on all new #influence19 relationships
Close 1 new retainer client
Introduce my daughter to Euclid
Bookstore Date with Indi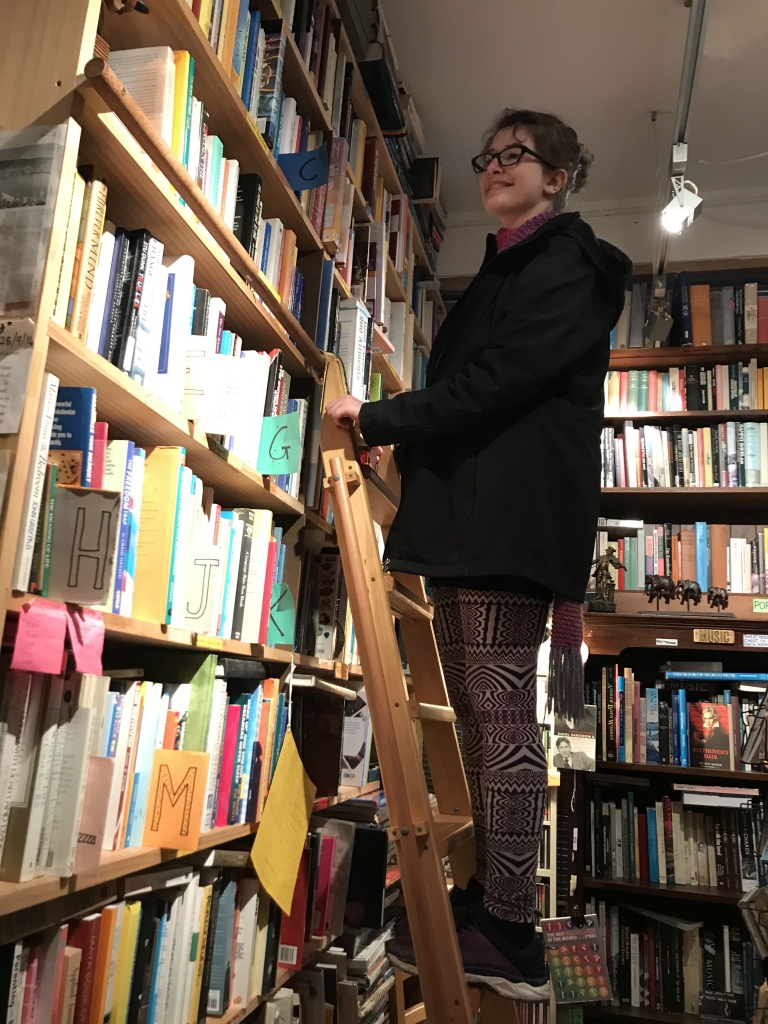 One of the highlights of my month was taking Indi out for a date. We went to Toi Whakaari, the national New Zealand drama academy, for their open house. We sat in on a bunch of classes and learned about how they run their acting program. Then we went to Cuba Street for dinner, and spent a long time in Pegasus Books browsing through the aisles.
I showed her some of my favourite books, ones that meant a lot to me, and they had an edition of Euclid that was identical to the one I studied at St John's College. I told her about how Bertrand Russell called Euclid one of the great loves of his life, and how she was getting old enough to begin geometrical studies. She agreed to get the book, and go out on regular coffee dates with me, to learn about the mathematical relationships between lines and shapes.
Badjelly and Dulboot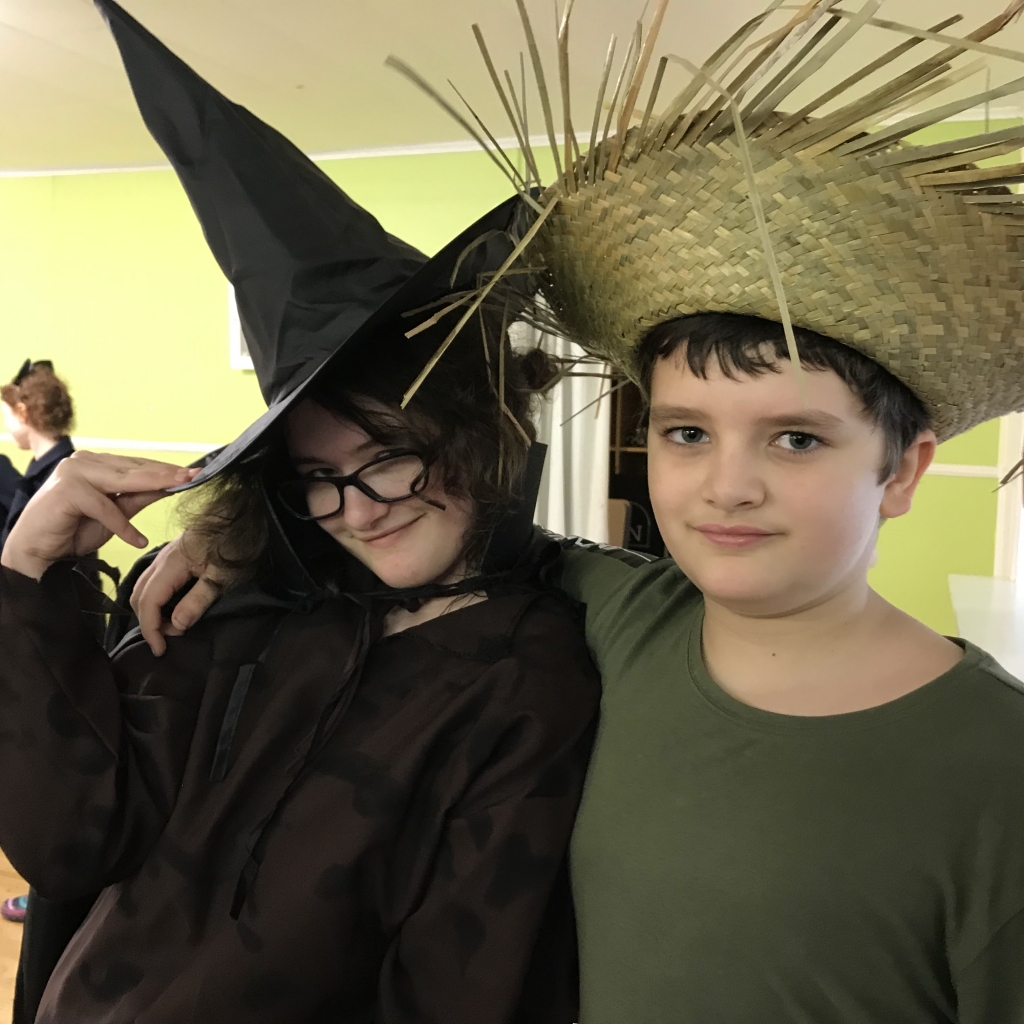 The two oldest #huntresskids have been in a drama class for homeschoolers, and this semester Indi was the title character in the play Badjelly. Written by a New Zealand playwright, this silly play was a great opportunity for Indi to shine as 'the wickedest witch who ever lived.' Her henchman Dulboot was played by her brother Zaden.
I took a day off of work to attend their performance, and with all the other wins and victories of my month, I still count this as my favourite.