Bryan Whitefield is an Australian management consultant who specializes in risk-based decision making. With many of Australia's leading companies and powerful government agencies as clients, he has been running a successful black belt practice with a small team. They recently redesigned his WordPress website, and were having trouble integrating their InfusionSoft installation.
After the WordPress website redesign, the website was still receiving dozens of spam entries per week, and the sitespeed was slow. Blog posts were not displaying as they should, and there were multiple broken links.
Bryan and his team had been using InfusionSoft for many years, but only at a superficial level. They had collected data on who had attended Bryan's workshops in the past, but they were unable to use this data intelligently as part of the CRM.
Stellar Platforms was hired to do an audit of Bryan's systems, including his WordPress website and his InfusionSoft (now Keap) account. We quickly identified many areas for improvement, and set up a project management system in Trello to review these items with his team.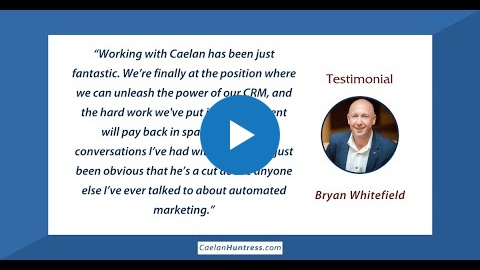 Through weekly marketing meetings with Bryan's marketing manager, Wendy Dias, and his executive assistant, Paula Rival, we were able to provide insight and perspective before implementing a potential fix. This enabled Bryan's team to review any potential changes, ask questions, and provide crucial context before a recommended change was executed.
The project plan included:
Sitespeed enhancements to the WordPress website
Homepage website design review and revision
Evergreen redirect strategy to use universal links for whitepapers
Simplification and templatization of commonly used elements
Email deliverability audit
Server fixes to improve deliverability
New InfusionSoft template that was mobile responsive
Automation from newsletter and website activity to Flame Scores in InfusionSoft
Setup of pipeline automation tasks for team
Bryan's WordPress website now has improved loading time and no spam.
We replaced the contact forms with Gravity Forms, a premium WP plugin, and integrated it with InfusionSoft using Zapier. New pages were created and designed for lead magnet subscription and delivery, with step-by-step tutorials provided for Bryan's team to replicate in the future.

Using InfusionSoft's Lead Scoring function, we created Flame Scores for Bryan's database. After submitting an inquiry form on Bryan's website, InfusionSoft scored these new contacts and automatically assigned tasks to Wendy and Paula.

Based on their interactions with the automated systems, a contact's score would change over time, giving Bryan the ability to immediately see the highest-potential customers in one list when he was ready to enter the Boiler Room and start selling.
Setting up smart marketing systems like this has been a specialty of Stellar Platforms for more than a decade. Read the testimonials (42 and counting!) to see the kinds of impact we deliver for our clients.
"Caelan is a self-confessed marketing nerd and tech wizard and has a deep understanding of systems and platforms. Coupled with his marketing expertise, it's a very rewarding experience working with him. Plus he's the nicest guy to work with – very organised and switched on." – Wendy Dias
Do you want to have a conversation about your marketing automation? Are you planning an upcoming launch? Is there a technological hurdle you need help to overcome?
​Fill out this form for a Digital Strategy Session, and we'll talk.