When I made a TikTok sharing the 'Do it 100 times' philosophy I learned from Friendly Ambitious Nerd author Visakan Veerasamy, I tagged him in it, even though he spends most of his time on Twitter. There wasn't even anything on his TikTok account, until he made a Duet with my video.
Now he's in the middle of making 100 TikToks.
One of the neat things about TikTok is when people Duet someone's Duet, and it expands into a chain. Remember the Sea Shanty craze earlier this year? It started in Duets on TikTok. Well, someone did a Duet with Visa to mimic his facial reactions and hand gestures. Someone else made a Duet that. Here's the latest entry in the Duet chain: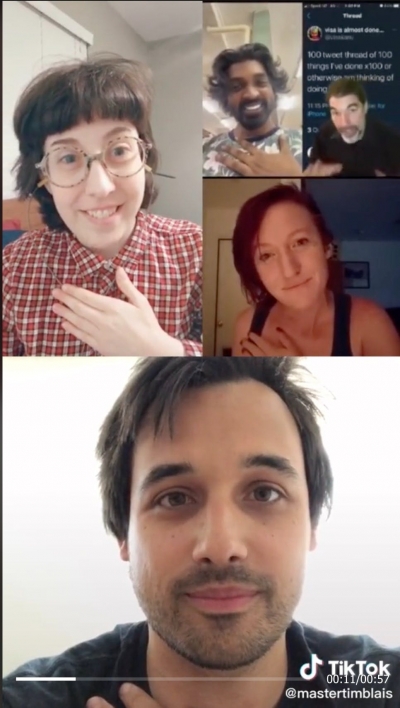 If you're on TikTok, feel free to Duet with us, and keep the chain going!
If not, I challenge you to try something new 100 times.
Do It 100 Times
This year, I made a resolution to make 100 videos.
You can earn capability and confidence with a large volume of tiny mistakes. Familiarity comes with practice, so I am making 100 livestreams on YouTube between now and the end of the year. Every day-ish or so, I will create a short, informative, and entertaining video about a topic.
Here's the first one (5:24) ->
If you want to follow along, subscribe to my YouTube channel. I'll be posting X/100 at the beginning of every title, to share my progress!
Here are 4 ways we can collaborate:
Apply for a Marketing Consultation
I help experts and entrepreneurs set up smart marketing systems. Do you want to have a deep and meaningful conversation about your business?
Apply for a Digital Strategy Session
Register for my next Masterclass
Your Message = Your Mess + Age airs on Thursday, 16 September. Register for my masterclass and I'll send you the replay if you can't attend – as well as my Anchor Brand Content Workbook
Register Here
Hire me as your Coach
In addition to marketing consulting, I also work with clients one-on-one as their business coach in a 12-week coaching program.
Schedule a Discovery Call
Book me as a Virtual Speaker
I combine my skills as a theatrical performer with modern tech to create compelling virtual experiences. My virtual and hybrid keynotes are full of interactivity, insight, and engagement.
Review My Speaking Topics