June was an exciting month. We experimented with celebrating American Father's Day in New Zealand. The timing worked great, with Johanna's dad visiting us this month. Her mom visited last month for Mother's Day, and we got her dad here for Father's Day, too.
In New Zealand, Father's Day is in September. We played with the idea of celebrating Father's Day twice, because when we lived in Costa Rica, they celebrated Mother's Day on a different day than the US, so we celebrated Mother's Day twice while we lived there.
While it sounded nice to have two days a year celebrating my fatherhood, ultimately it didn't work well, because it conflicted with Yule. June 21 was our biggest midwinter holiday this year, and we needed more time to prepare, without another holiday one week before.
Half-Holidays in the Southern Hemisphere
Starting with Easter this year, we decided to actively partake in half-holidays. The Northern Hemisphere traditions on which we were raised – Christmas in the wintertime, and Easter in the spring – have seasonal timings that don't work as well in the Southern Hemisphere.
Christmas here is the start of barbecue season. It's the holiday that marks the start of Summer.
That leaves us with a big hole in our midwinter, when we traditionally make Green Chili Stew, and shower each other with presents, to wear away the weariness of the cold storms.
The original purpose of Yuletide festivals was to give the tribe an occasion to which they could look forward, and provide a bright moment in the darkest days of the year. We needed that this year, so we celebrated Yule on the Winter Solstice, June 21.
We wrapped presents for each other, and set them beneath a Driftwood tree. We spent the day in feasting and revelry, and gifted one another books and trinkets. It was a marvelous time.
Yule 2019
Celebrating American' Father's Day honestly got in the way of our Yule planning. It's like having a holiday 1 week before Christmas. All the same, it was a fun time. We took a boat to the South Island and saw the oldest ship in New Zealand.
Interislander Trip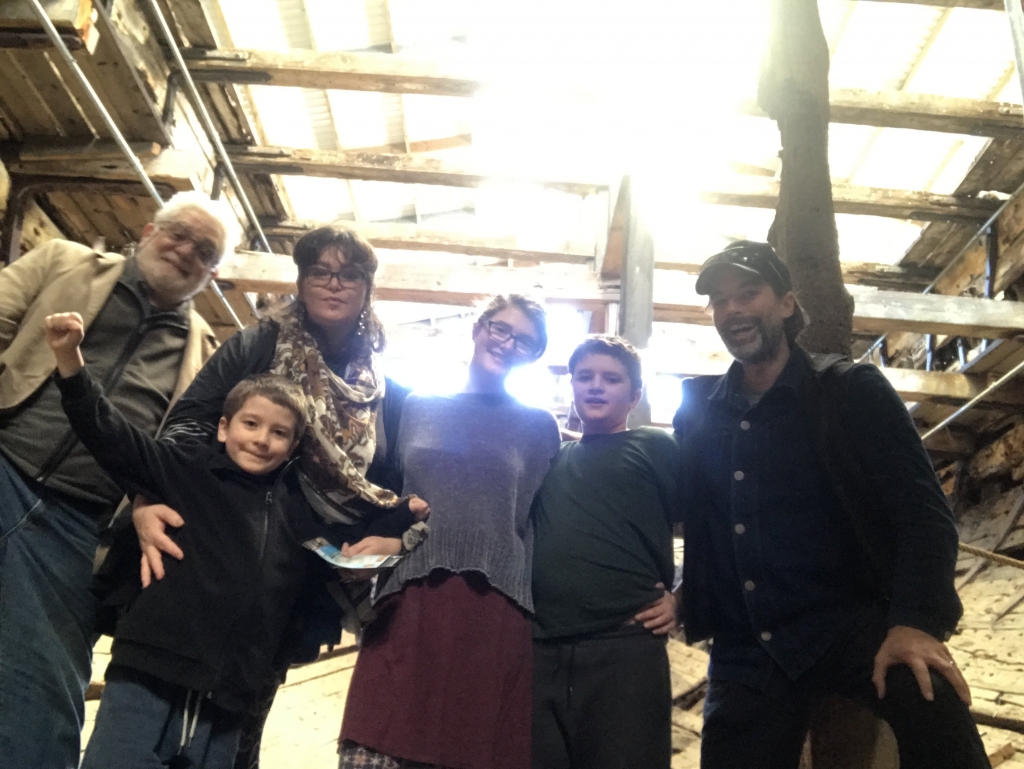 The Edwin Fox is the ninth oldest ship in the world.
The Edwin Fox Museum is in Picton, on the South Island of New Zealand.
We also had some playground time together.
And we had some culinary mishaps.
Update: it turns out that 'swedes' are 'rutabagas' and tonight's dinner has been a fun adventure.

— Caelan Huntress (@caelanhuntress) June 24, 2019
Quotes that mattered to me this month
"No man ever achieved worth-while success who did not, at one time or other, find himself with at least one foot hanging well over the brink of failure." – Napoleon Hill
"The only important thing about design is how it relates to people." – Victor Papanek
"When dealing with people, remember you are not dealing with creatures of logic, but creatures of emotion." – Dale Carnegie
"The happiness of this life depends less on what befalls you than the way in which you take it." —Elbert Hubbard
"Obstacles are those frightful things you see when you take your eyes off your goals." – Henry Ford
I've been a professional creative for more than a decade and I still get on this roller coaster – as a matter of fact, I'm on it right now https://t.co/BDRBb4tr5K

— Caelan Huntress (@caelanhuntress) June 13, 2019
Published This Month
On my professional blog I wrote all about the Thought Leaders Practice, making a digest of the 5-week Book Club I hosted on it, and then decided to join the Thought Leaders Business School.
New Website Design for YoungArchitect.com
I launched a new website design for YoungArchitect.com. Well, it wasn't really new – I designed it last year – and it was sitting in the sandbox because Mike Riscica has just been crushing it on the road. He's been so busy, out there giving lectures all over the place, living out of his van when he wants to be out on the road, and his continual and active presence with his community has been super inspiring to behold. He's got his first Young Architect Conference coming up in a few months, and I'm happy to see this website design out there in the world.
I also did a bunch of copywriting for clients – email automations, onboarding sequences, product launches, and more. I'm also getting in the habit of recording short tutorials for interesting tricks I do online.
Metrics That Matter
June was a very productive month. My clients are happy, my revenue is up, and my People First project was filled with great conversations.
Net Profit last month: $ 1884
Money saved last month: $ 1,900
Hours of exercise last month: 10
Average weekly hours worked last month: 36.18
Days journaling: 11 / 31
Hikes: 7
This final goal is one of the foundational content creation processes in Thought Leaders Business School. If this works, I'll be able to deliver my expertise in multiple different commercial avenues, and I'll have lots of new ways to sell my thinking. Stay tuned!
Goals for Last Month
Fill all the spots in my 90 day Mastermind group – fail. I postponed this launch for Q4.
Keep a Victory Log at the end of the day 20+ days for June – Victory! Keeping a log of my daily wins was really helpful. I often uncovered things to celebrate that otherwise would have been forgotten.
Pay off one credit card in full – Victory! I still have a few more to go, but freeing up an entire credit line enabled me to begin the balance transfer mambo, where every line that has an APR gets switched to one that has 0%.
Take each kid on a solo date – fail. It was a busy month, with lots of trips AND family time, so while I didn't get dedicated time with my kids individually, I still got lots of time with them.
Goals for This Month
Income more than expenses.
Create new Q4 Mastermind offering.
2 hikes per week.
52 Pink Sheets.
I picked up https://t.co/fwQKHseHsO today. I think I can do something interesting there. pic.twitter.com/FaZCDduHXS

— Caelan Huntress (@caelanhuntress) June 17, 2019