I took almost a year off of this blog, and there were many reasons for my absence.
The biggest reason is: during 2016 I pivoted my main brand three times.
Pivot 1: BeTheBetterDad.com
Pivot 2: WellnessWebsiteDesign.com
Pivot 3: StellarPlatforms.com
Pivot One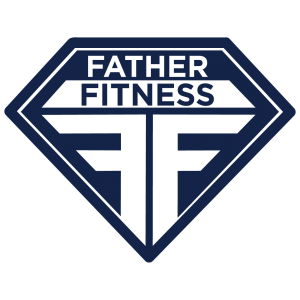 Internally, I still call this project Father Fitness, even though it went through a pivot of its own, to BeTheBetterDad.com. It took me eighteen months to complete this pivot and realize it was not the direction I wanted to go.
Sometimes, you have to turn completely in one direction and take a step up, in order to get the perspective to understand where it could lead.
What Made Me Pivot: I launched the 5-Day Father Fitness Program, a scaled-down version of a massive personal development program for dads that I was planning to build.
This program allowed me to use a lot of my multimedia skills, which was why I liked making it so much. I recorded and edited videos, designed the layout of the education portal with fancy interactive tools, and made something that could help young fathers become better people, and participate in their households with more ease and finesse.
But to scale this up? To grow farther? To set up a product pathway? All options led to coaching. When I realized this, I had a clarifying revelation"
I'm not a parenting coach. I'm a website designer.
That's the craft that pays my bills, and as I realized in my 2015 Annual Review, I have only 2 main goals in life right now:
Raise my kids
Build my fortune
I know it's possible for me to write a book about fatherhood and parenting, and get well known as a role model in that niche. I pivoted in this direction because I saw that this was an area where I could not only help people, but magnify my help: if I can make men into better dads, they raise better children, and in 100 years that makes a better world. The impact is exponential.
However, I'm not in this just for altruism. First, I need to build my fortune. And in order to properly monetize this platform, it would require that I offer coaching services.
Telling other dads what they are doing wrong is not something I feel comfortable with. I don't even do it with my friends. When I tell people I have no interest in being a coach, they are surprised; my advice is often helpful and insightful, and years of giving free marketing consultations as a client intake strategy has honed my amateur coaching process.
In spite of this, my skillset has been focused on digital marketing for more than six years. Coaching is not something I'm trained in providing, and it's not a business model I want to pursue.
When I realized this, I dropped this project that I had spent 18 months nurturing, dropped it completely. Because as Chris Guillebeau reminds us in his book Born For This, "Winners quit all the time." (See my review of his book here, which was on that blog.)
I didn't tell anyone I was stopping the project, I just stopped. Stopped publishing, with my editorial queue still in place, and a dozen posts from 35-95% complete in my queue.
It wasn't time lost, though; I needed a showpony. I had been making exceptionally beautiful blogs for clients for years, but like the cobbler with no shoes, my blogs were all crappy. I needed something that could show off all the cool tricks I've learned as a web designer, and BeTheBetterDad.com successfully does that.
Helping dads become better fathers, however, that doesn't use the skillset that I had just spent six years developing. So I pivoted.
Pivot Two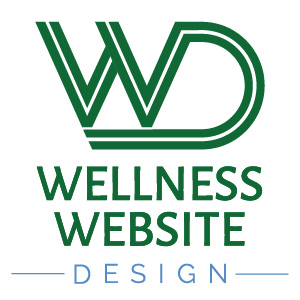 When I looked at my web design clients, I saw a similarity with my best customers: they are metaphysical or alternative in some way. They have a specialized vocabulary not easily understood by people outside of their niche, so having a website designer who understood their language was a bonus.
I settled on naturopathic clinics with 6 or more practitioners as my target market; these were often my very best clients, because they had money to pay for my better services, valued SEO and high-quality design, and were generally laid-back and easy to work with.
I procured a list of 1000 such clinics and prepared a massive marketing campaign. I rebranded my multimedia agency, designed a new logo, set up social media accounts, and then I paused.
Much of the client work that I really enjoy isn't just for setting up shop for a business on the web. It's the sales funnels that really get me going, it's the tiered content marketing campaigns and the members-only access portals.
When I set up Pura Vida MultiMedia, I was very specific about the breadth of my digital sandbox. I listed the 3 main components of what I do right beneath the logo: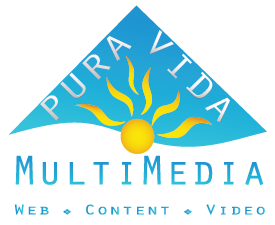 If I wanted to build a website, or make a video, or design a content marketing campaign, it all fell within the boundaries of my multimedia company. I could do any of the fun things that I wanted, and get paid for it.
With Wellness Website Design, I immediately felt stifled. The idea of abandoning the complicated ecommerce permissions that I learned how to create, and forgo the squeeze pages and lead magnets that I really enjoyed, in order to focus exclusively on WordPress and SEO just felt draining to me.
Luckily, I was cultivating a side hustle, just in case.
Pivot 3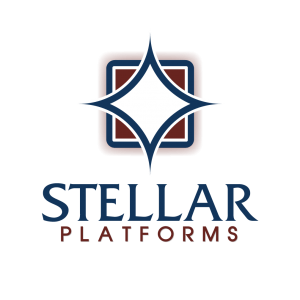 The entire time I was working on Wellness Website Design, I was also fiddling with this other brand. I like to do work in batches; if I'm designing one logo, I might as well design two or three at the same time. I have all the right programs open, all the right contractors on my team, and I'm working in a mode that is conducive to parallel projects with nearly identical multimedia needs.
So when I designed Wellness Website Design's logo, I also designed Stellar Platforms. When I set up social media accounts for one, I set them up for both. I first hatched this idea some two years ago, and because I was making such a major pivot back to my core skillset anyway, I thought that nurturing this side hustle would be a safe bet, and it really was.
Just before I pushed the button to pay for a massive mailing campaign to hundreds of naturopathic clinics, I stopped and gave a serious look at Stellar Platforms. This project would allow me to retain that wide sandbox that I have valued so much over the last few years of my career.
With Pura Vida MultiMedia, it has a brand name that means nothing to anyone but me. It's the company I formed to support my family when we moved to Costa Rica in 2011, and their national slogan is 'Pura Vida.' With my work under that brand, my clients were 70% web design, 25% content and 5% video. That's why I thought I should focus in on web design, but really I needed to move in a different direction of overlaps; I needed to pivot to Sales Funnels, Education Portals, and Brand Strategy.
It took a few steps, but I eventually settled on published authors as the right demographic. Authors have already collected their content into an organized form, they have testimonials collected, they have an audience and can get butts in seats, but many of them don't have something to sell from the back of the room.
That's where I come in: I package their content into a course and sell it on their website. It makes them money, and expands their student base, both of which are worthwhile expenditures for them.
Another big difference with Stellar Platforms is that I have taken on a partner. Matt Koren was my business coach when I lived in Costa Rica, and he is smart and productive and great with people, just like I am. Our skillsets complement each other really well. Having someone else on board, taking ownership of the brand and hunting for clients, has lifted a lot of the pressure off of my shoulders. I love not having to do everything myself, and to have a collaborator who can grow this enterprise with me.
Epilogue: Pivot 4
Redesigning This Website
I spent 8 months without publishing a single post on this blog, partially because I was migrating it in my spare time.
This website caelanhuntress.com used to be a domain redirect for a WordPress.com blog, which is still alive over at https://caelanhuntress.wordpress.com. I like having a backup of all my blogging on servers other than my own, so I took off the domain redirect, and started the slow process of bringing everything back over here as a duplicate.
I also created my Collected Works page, a place where I have finally corralled all of my published work on the Internet. I've always wanted a digest page of everything I've published online for my own reference – and to remind myself that, hot damn, I write a lot.
While website design is the craft that pays my bills, being a writer is what I really want to do with my time. But, there's some problems with combining website design + writing into a blogging lifestyle.
Being a Blogger
There is a big myth about blogging, that it can become the pathway to the success you dream of having. Blogging can build you an audience and make you a star, and somehow allow you to quit your day job.
The thing about blogging is -> it becomes a job. When you get really good at it, and you have multiple relationships to manage on the internet, and every post needs to be in-depth and detailed with original images all shareable via whatever social media platform anyone cares to use, and leading to products and sales funnels…it's a lot of work.
It's work I like doing, but after years of applying my efforts, it just didn't get me the results I expected.
Results I Want From Blogging
Freedom of time over my schedule and daily activities
Enough money to support my family in comfort
Flexibility to pursue the creative ideas I find most interesting and enjoyable
To achieve these results, I made a strategic decision on where to blog, and what to blog about. Launching BeTheBetterDad.com was a real big pivot for me, but I wasn't able to see very far down that road until I was on it for a while.
After I launched the blog, wrote some articles, built an audience, and launched an MVP (Minimum Viable Product), I was able to look up the incline of scale, to see what this thing would look like when I got it big. Since all roads led to coaching, not to writing or to web design, I made the right move to pivot.
Being a blogger on my own personal blog, though – I'm not sure right now, if it will get me where I want to go. Now that my redesign is done, I plan on blogging about those thoughts I have that I like to write about, and maybe find some semblance of continuity that I can transform into a book or a podcast down the line.
If you'd like to follow along, subscribe to my blog here:
[embed_popupally_pro popup_id="1″]