I've been Zooming a lot (as you probably have, too).
Looking back on all these Zoom calls, I have some insight about how Intentional Conversations are different from Spontaneous Conversations.
Intentional Conversation is when we schedule an appointment to talk. There might be a written agenda. There is a venue where we meet (the Zoom room). There is a defined time to start, and possibly a time to stop.
Spontaneous Conversation is when we pass each other randomly, and stop to have a chat. No agenda, no structure, just improvised conversation.
When Jerry Seinfeld interviewed Barack Obama on Comedians In Cars Getting Coffee, he said this was what he missed the most: seeing someone in the street, unexpectedly, and having a brief chat. Spontaneously.
As the President, everything in his life was scheduled, and scripted, and intentional. He couldn't have a random Spontaneous Conversation with an old friend.
That's what all of our scheduled Zoom meetings have become: a series of Intentional Conversations.
We don't bump into someone by the water cooler, or chat about random nonsense while waiting our turn in line for the restroom.
Our Zoom calls are all Intentional. Scheduled. We don't talk with someone unless it's on the calendar.
How can we manufacture Spontaneous Conversations while in quarantine?
Here's some ideas:
Text someone and say 'Can you talk for a minute?'
Call friends on FaceTime who are on Facebook right now (the menu on the right shows who is online)
Share your Zoom URL with an open invite, and delete after an hour
Host a virtual Happy Hour, create an event and invite people to drop in and say hello
Call an old friend out of the blue
Cultivating Spontaneous Conversation is something we have to manufacture, while we are in quarantine. Creating unexpected connections can give someone a much-needed boost.
Some companies are introducing mechanisms for Spontaneous Conversation. Slack has the Donut app, which pairs random team members together for a 30-minute conversation. Hopin.to has networking breakouts during their virtual events that pair you with a random attendee for 4 minutes. I attended one of their events last week, and this spontaneous networking was the best part of attending.
After you craft some Spontaneous Conversations to improve your mood and emotional state, take some time to improve your Intentional Conversations. Start and end on time, use the platform's native tools for interactive exercises, and keep people engaged from start to finish. I teach people how to do this in my on-demand Masterclass, Be A Better Zoom Host.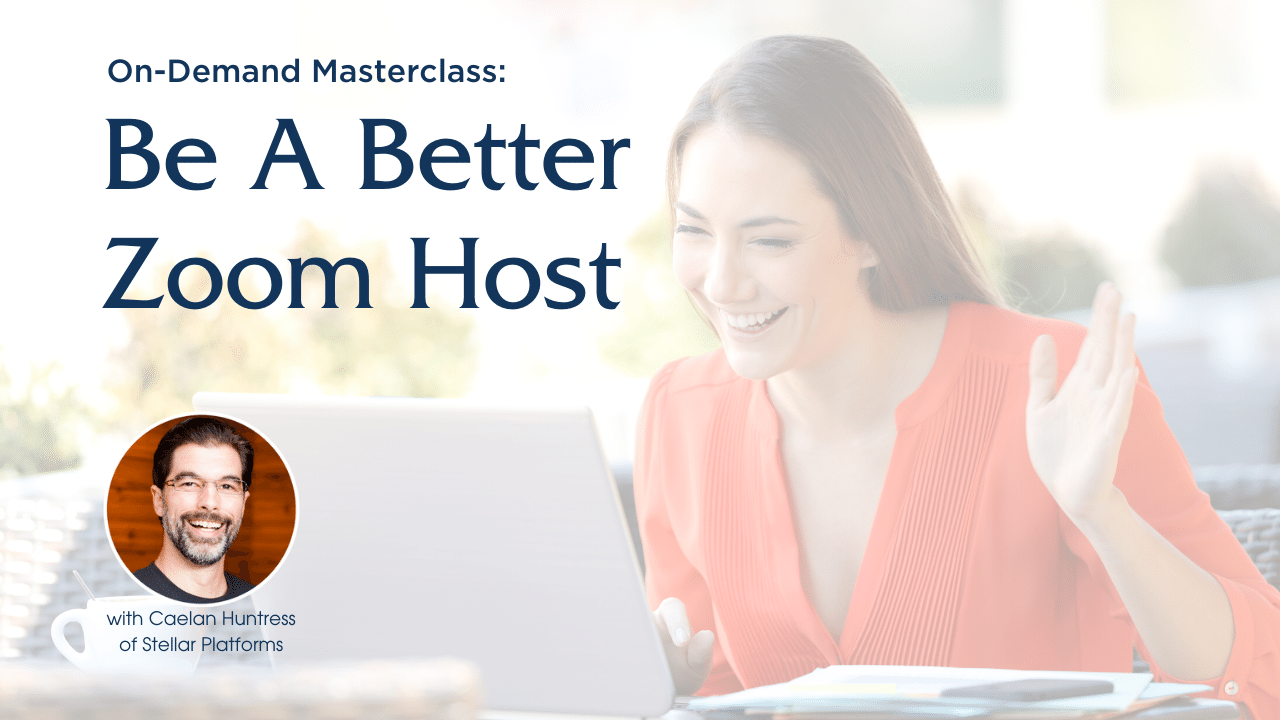 During this free 1-hour Masterclass, you will learn:
Virtual facilitation best practices for leading a great meeting
Whiteboard exercises to keep participants engaged
Annotation tools for brainstorming and engagement
Breakout rooms for intimate conversations
How to encourage participation from your attendees
If you are hosting Zoom calls for your job, your team, or your clients, this free Masterclass will help you improve your meetings. I'll train you on the tech, the delivery, and the best practices that will engage your participants and increase your confidence.