January is always a burly month; I've got a birthday or two to celebrate, plus my youngest son's birthday; there's new resolutions and annual reviews, habits quickly getting derailed, and clients off on holiday.
This year, we also had family move to New Zealand with us! On my very birthday, they landed at the Wellington airport to join us in our new home.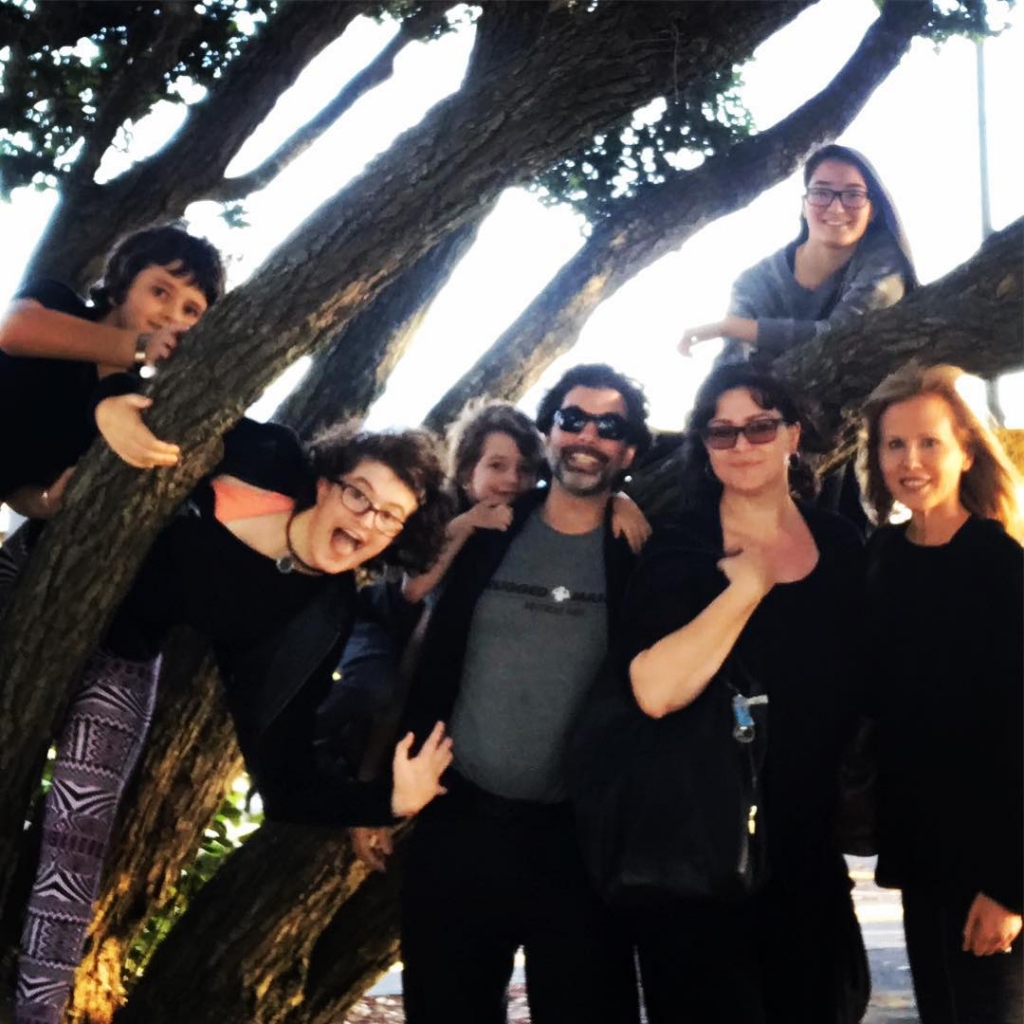 Taos had a birthday – he's 7.
Accomplishments This Month
I re-launched the Make It Happen Mastermind, my 12-week Group Coaching Program. This is the second 90-day session, and some of the participants rolled over to repeat the weekly accountability calls. It's been a lot of fun to bring masterminding into my service offering, so now it feels like more than just a hobby.
Neil Gaiman replied to my tweet. This isn't because I'm special, I think he's just an exceptionally nice fellow (in addition to being one of the most talented writers of our time) but all the same, I was giddy when it happened.
Bailey Richert interviewed me for the Infopreneur Summit, a collection of a few dozen professionals who help people make money online by selling their ideas. I was one of the Sales Funnel experts that she interviewed, and being able to geek out about my craft on camera was really fun.
One of my clients, a motivational comedian who plays guitar, texted me from backstage and said, 'Hey, can you make this new coupon code really quick? I just had a great idea, and I want to make an announcement about it. Right now.' Three minutes later and it was DONE. This made it clear to me: I'm really good at helping other people sell and market their stuff. My own stuff? I might not be that great. But supporting other visionaries – that's where I excel.
I also started working with a great new client. They have an exclusive distribution on young tissue extract supplements. I typically shy away from supplement companies, but the science behind this one is legit, and they have a dynamite formula that is really undervalued.
Writing I Published This Month
I've been working on a webinar for some time, 13 Secrets of Sales Funnels. To produce this webinar, I used a new webinar script template that I've been playing with, and I stalled on finishing it until after the holidays. Now that it's done, I launched it, set up the Facebook ads, and immediately realized it was the wrong piece of content, targeted to the wrong demographic. (I do this a lot.) Some stuff came out okay:
This final post was very meaningful to produce. I almost didn't do it. After talking to a friend who's a really good ghostwriter for authors, she told me, 'If you're not passionate about it, don't write it.' My daughter gave me this advice, too, and she's a budding writer, so we talk about the craft of writing frequently, and I didn't want to show her the hard work before she has fully embraced the joy of it.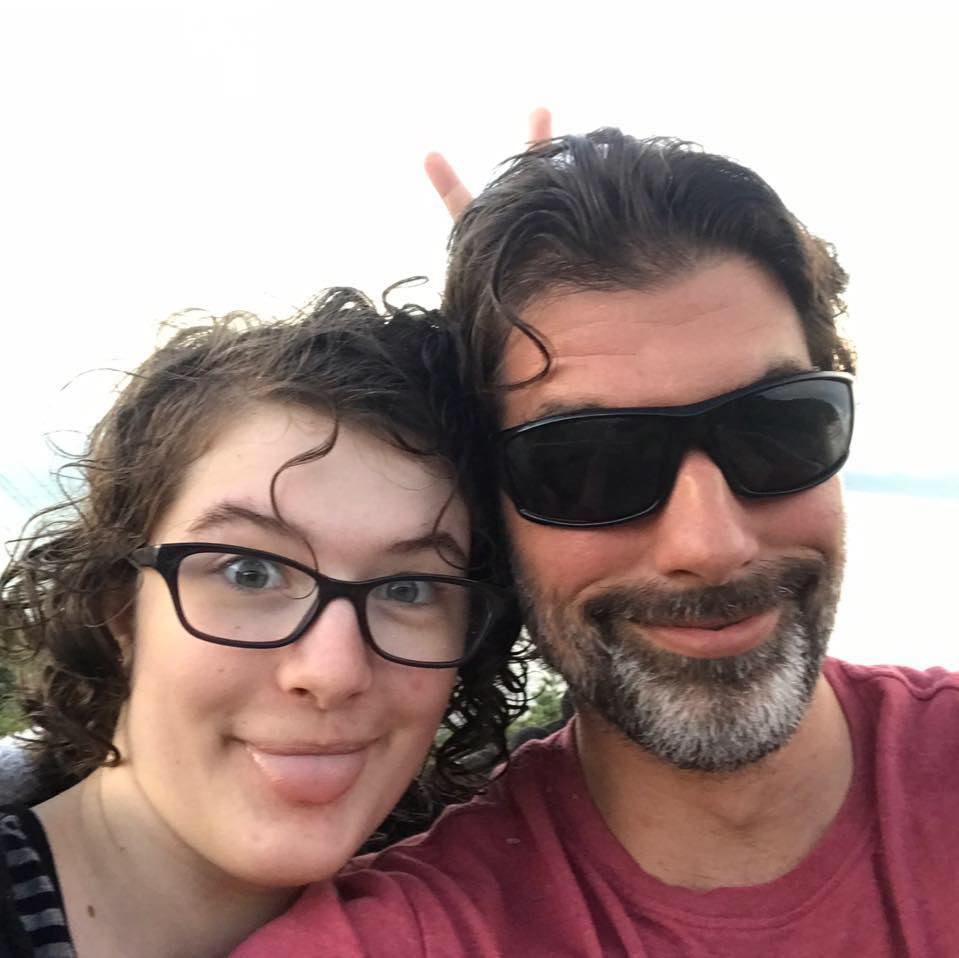 During November, I wrote a 12-chapter book, called Sales Funnel Strategy. If you've written books before, you know what drudgery it is to go through the editing process.
I decided to harmonize my content production tasks, and publish 1 chapter every month to the Stellar Platforms Blog. Every month, I planned to edit and publish one chapter. But all month, I resisted writing this post.
I didn't want to edit my work, I found more interesting things to work on, and I've been wrapped up with launches and client work that made this really easy (almost irresistible) to put off.
Mentally, I had already given up, and decided I would be okay if I didn't do it – if I aborted this year-long project just as it was starting, it would all be fine. I'd never write my book, but it would all be okay if that happened.
Then, last week, I decided to just try it. I'm a really proficient blogger – I've probably crossed 1,000 posts in my career already – so it's something I can do without too much emotional energy invested in it.
And that's precisely what I needed.
When I had this big, monumental task in front of me (EDIT A CHAPTER OF YOUR BOOK) it was so easy to justify putting it off, and the Resistance made a very good confidante for my feelings.
But writing a blog post? That's EASY. When I just put my blogging hat on, the post happened naturally, and now it's done.
There might be 11 more of these, and next year, maybe a book. We'll see.
You know, this is in Gutenberg.
I wrote this post in the Gutenberg editor, the new editing interface in WordPress 5.0. Formatting in this editor can make me scream in frustration a number of times.
Now that I've had some time to work with it, I can say with confidence that I prefer native page builders that come with a theme – the WordPress core just hasn't caught up to the advantages built into theme-specific editors yet.
I found a productivity hack for working from home
When I'm working from home, I've found it helps me get more productive to change out of my pajama pants, and into pants with pockets and a belt.
I guess it really gets my ass in gear.
I took a news fast
It went like this:
---
News fast: Day 1. I'm going to try fasting from the news for a while. This makes social media participation difficult, but not impossible.
News fast: Day 2. What's hard about this new practice is the moment of transition, when I have completed a hefty piece of work and I want to pause for a moment and unwind. This is traditionally when I turn to Twitter to surf through some headlines and jokes, and now I'm catching myself, unsure what to do next when I'm ready to transition my mind.
News Fast: Day 3. I've found those avenues where I can allow myself to participate in social media – by going into professional groups and providing content, commenting on other peoples' posts, and starting conversations about topics that relate to my work.
Instead of occupying my spare time with conversations about politics and world events, I'm limiting my social media conversations to professional conversations that both nurture relationships with weak ties, and also demonstrate my expertise. This feels like a good redirect.
News fast: Day 4. Broken.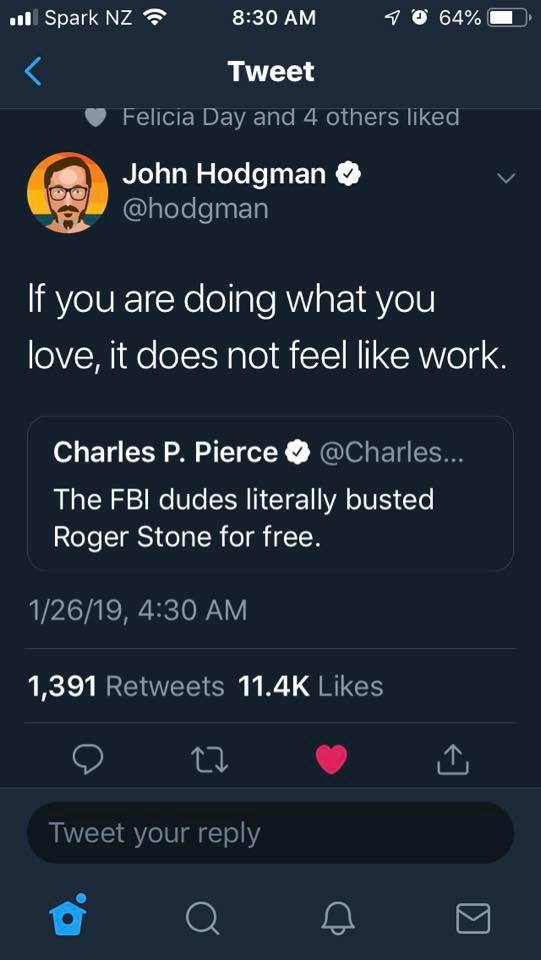 This morning I woke up to news that Roger Stone was indicted. It's Saturday morning here, and I just hit publish on a new blog post AND launched a new Facebook ad campaign this morning, AND spent lots of family time with the kids playing DnD last night, so I felt good about breaking my news fast.
And I'm glad I did, because I got to see some of that top-notch media manipulation. Only a few hours after Stone's arrest, Trump announced he is reopening the government.
The headlines will all be about the shutdown ending, instead of discussing Stone and the other criminal conspirators that have surrounded the President since ushering him into office.
Watching the play-by-play as this remarkable piece of American history unfolds is fascinating. I'm going to dive back into the news this weekend, and be more cautious with my time and attention next week.
---
Metrics That Matter
I'm tracking some new metrics in the planner I'm using this year, and it's got me thinking that publishing these metrics might make me more likely to produce good numbers.
Net Profit last month: $ -3314.77
Money saved last month: $ 500
Hours of exercise last month: 29.5
Goals for This Month
Make 5 pipeline calls per week
Close 3+ new retainer clients
Play D&D with my kids every week
Pamper my wife twice with unexpected presents