2018 was a big year. I've worked harder this year than I ever have in my life (and that's really saying something). As I look back, I'm proud of what I've accomplished, and I'm also navigating the peculiar difficulties of slowing down. It's a challenge to achieve and accomplish things, and not work so hard, but that seems to be what 2019 has in store for me.
Annual Review Table of Contents
My #AnnualReview consists of 4 parts:
What were my victories?
What could have gone better?
How many New Year's Resolutions did I keep?
What are my resolutions for next year?
To see all of my annual reviews, click here.
Part 1 – What were my victories of 2018?
My biggest victory was finally attaining residency in New Zealand.
Residency in New Zealand
To achieve this victory, I had to:
Get hired by an accredited New Zealand employer
Apply for a work visa
Move my family across the world
Apply for a residence visa in New Zealand
Work at the day job long enough for the residency process to complete
Keep running my business on the side
For most of 2018, I worked 40 hours per week for my employer, and an additional 20 hours a week for my digital marketing agency. I made twice the money in half the time by running my own business, and quite frankly, I could not afford the move, the residency, or the living expenses of New Zealand, without keeping my business going on the side.
After we gained residency, I left my day job to continue working for myself full-time. Because it turns out, working 60 hour weeks can really have an impact on your health, as I discovered this year.
Although the cost in sweat and treasure (and longevity) was high, bringing my family to a safe, far-off corner of the globe was worth it.
I Published Lots of Content
Here is a partial list of some of the content I created and published this year:
The Stellar Platforms Blog
My Personal Blog
'The Mission' on Medium
I Gave Webinars and Presentations
I got to satisfy my urge to speak in front of an audience many times this year. The best was when I gave a presentation at WordCamp Wellington on 'Running a Freelance WordPress Business.' I prepared for an hour-long talk, and found out that my time slot was only 45 minutes. So I drank a lot of coffee and talked really fast.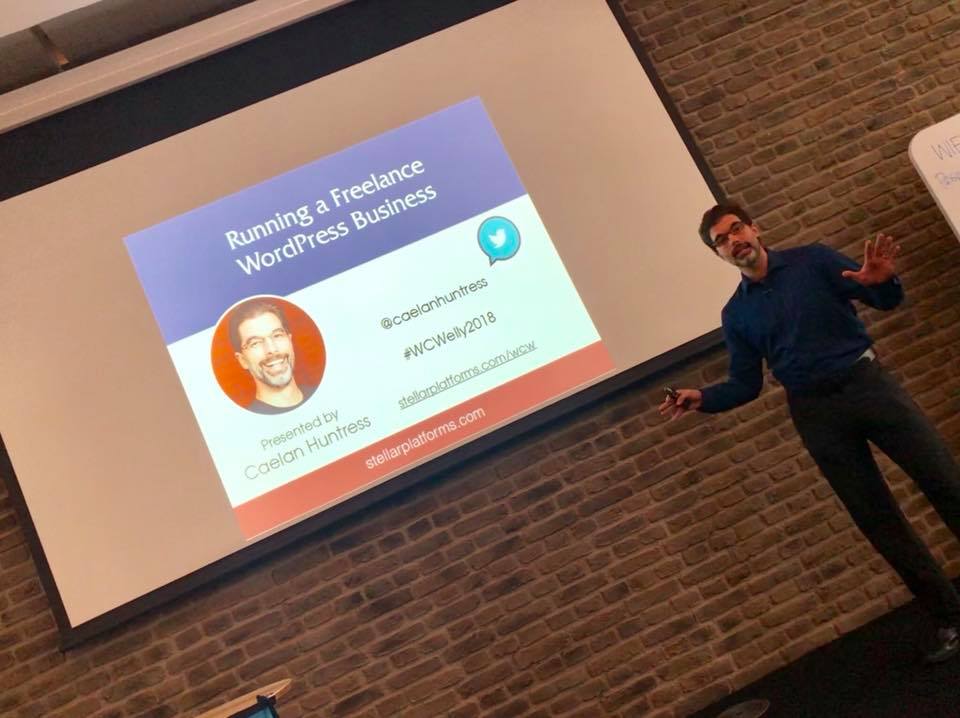 Other presentations I gave this year include:
I Made Lots of Good Client Work
Other victories of the year include:
My children are now old enough (and geeky enough) to beg me to play Dungeons & Dragons with them
I took the big kids to see a Shakespeare play, and they were totally into it
Daily 5 minute journal / journaling practice
Hired a coach to work on my deep-seated money issues
Invested enough in Crypto that I now have the equivalent of 1 Bitcoin
Got a new dog, and he's adorable
Quit day job
Sold an old domain I wasn't using for more than $1k
Found a great co-working space near my house
Got to see the Avengers with my wife on ANZAC day
Went to the Kupe festival with my kids – had front-river seats
I also wrote a book during NaNoWriMo, but it wasn't fiction. It's a 12-chapter book on Sales Funnel Strategy, and now that I have an awful first draft, I plan to edit and improve the manuscript during 2019.
New Home in New Zealand
In addition to residency, we moved for the 9th time in 9 years, into the house we will (hopefully) grow old in and stay forever:
The Make It Happen Mastermind
Although my main business is digital production, creating membership websites, WordPress website design, and content marketing, I've been privately running mastermind groups for nearly two decades. My marketing consultations tend to be filled with as much business coaching as digital strategy. So last year, I decided to formally launch my own group coaching program, and it was a big success. These testimonials made me very happy:
"Because of joining the Make It Happen Mastermind I've had some really great changes. I'm a lot more focused, and that's been super important for me, because I tend to work on too many things at one time. Making me focus and drive to one thing has been very helpful and successful."

Jonathan Logan
"My business has blossomed over the last three months. I've gotten a lot of help with strategy and organization, and everything that seemed to be impossible on my own now feels possible because of this network. It's not an expensive investment of time or money, given what you get at the end of 3 months working with other business owners helping you work on your challenges."

Kathleen Celmins
"I was a little reluctant to join when I first started, because I have a coach, and I wasn't quite sure I needed any more support, but I'm glad I did. One of my biggest challenges is feeling like I can accomplish everything by myself. I'm a one-man-show, its me, myself, and I, and a bunch of freelancers, trying to make things happen. Having a cool group of people to kick ideas off of has been profound for me. My business was already doing really good, but I really look forward to this meeting every week and checking in and having regular accountability. Its been a really positive experience for me and my business. I'm so glad I joined, and it's been a lot of fun."

Michael Riscica

We opened every Mastermind session with the same short passage that Andrew Carnegie used to begin his own Mastermind group:
Leading this Mastermind has been very rewarding for me personally, and I'm looking forward to the next cohort, from Jan 15th – April 15th. (Applications close on the 5th of January -> video testimonial from one of my clients, and I think this is the best I've ever received:
Part 2 – What could have gone better?
This year had many ups, but there were some big downs, as well. The most significant was my health.
Too Sick To Work
While I was moving to our new house, and working more than 60 hours per week in the middle of the move, I developed some disgusting health symptoms that forced me to stop the 'work until you drop' tactics of my youth.
There were some weeks when I worked more than 50 hours, while sick the whole time, and led to the decision to leave my day job. Now that I work from home, I can be more cautious about how hard I work, but I sometimes find myself laying in bed and unable to devote more than a couple of hours to my laptop. When you are an entrepreneur, with no savings, that's a difficult bed to lie in.
Thankfully, I used the natural healing remedies at my disposal to improve my health. I'm not yet cured, but most days I feel mostly normal.
Working Too Much
Since I'm doing year-end reviews today, I was able to collect some metrics from my time tracking spreadsheets, and here's what they say about my average week:
Admin – 9.83 hours
Networking – 2.11 hours
Webinars and interviews: 2.54 hours
Kineo (day job): 35.14 hours
Pipeline and outreach: 2.11 hours
Writing: 4.02 hours
Hourly and retainer clients: 8.2 hours
Total: 50.01 hours
Billable: 17%
Prospecting: 4%
This was the amount of time I devoted every week to these various activities. During Q4 I've been working much less – under 30 hours, some weeks! – and that's what reduced my total weekly average to nearly under 50.
The Feast and Famine Cycle
While I love being an entrepreneur, and doing the kind of work I find most interesting and appealing, the worst part is the inconstancy of income.
Some months, I make five figures, and pay all my bills. Some months, I don't, and thems the breaks.
My goal for 2019 is to have 6 consecutive months where my income is more than my expenses, to pay down debt, and to accumulate 6 months of expenses in the bank.
Prioritizing What Pays
As a trained salesman with skills in digital media, I often get approached with interesting opportunities. Somebody has a great idea, but doesn't have the resources to make it happen; but if someone like me could step in and work with them for a few months, I could create a revenue stream that could make everybody rich.
I turn these offers down, because I don't have the financial resources to support my family without having somebody pay me right now for the work I'm doing right now. This limits the kinds of projects I can accept, and ultimately, it stunts my success.
This year I recognized the specificity of this problem, which is why I want to accumulate enough wealth next year to make different choices.
Chancha couldnt come to NZ
We had to leave our dog behind when we moved. It was really difficult for everyone in the family, but with the big move, the expensive visas, and the incredible investment of time and energy I was already expending, we were unable to afford the $10k in shipping fees to send our dog to follow us.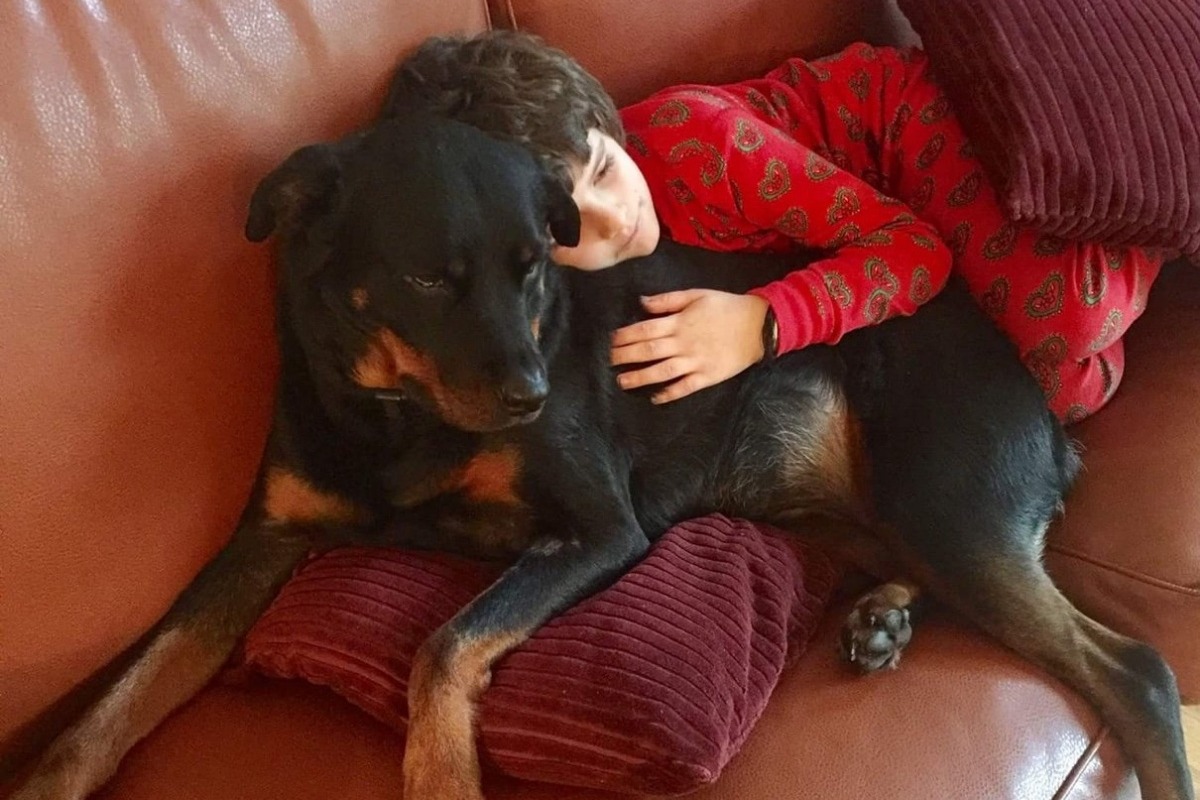 She lived with my kids' grandfather for nine months while I tried to balance the day job, the night business, the visa applications, the parenting and the move, AND somehow scrape together an extra ten grand to ship her over. We couldn't do it, but we did find her an exceptional home with someone who adores her.
We also got a new dog, a native Huntaway, and he's wonderful.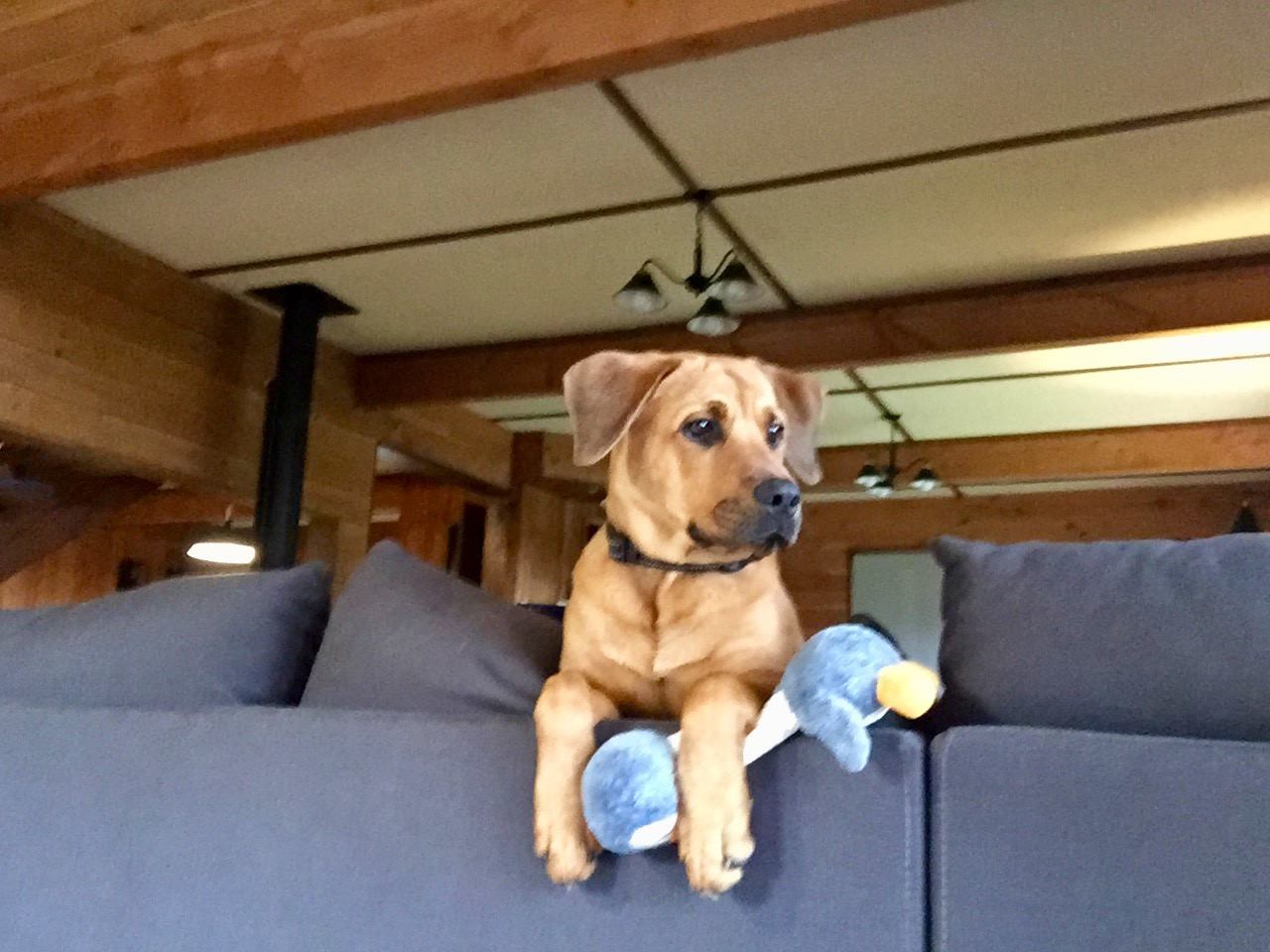 Part 3 – How many resolutions did I keep?
This is the part of my retrospective when I review my New Year's Resolutions. I've been using these handy graphics to measure my success:
Resolution Kept
Some Success
Resolution Not Kept

Wake by 6am every weekday
Success.
When I had my day job, anyway. I had to get up at 6 so I could get on my computer by 6:30 to work for an hour, then get on the train, and get into the office. My whole day would have unraveled without this early AM hour to work.
After moving, I stopped rising so early, prioritizing sleep so I could heal. While I technically broke this resolution when I stopped working 60 hours per week, I did it when it counted, so I count it a success.

Bathtime or Qi Gong at 8pm weeknights
Fail.
I ended up needing the 7:30-9pm block for client work when I was working my day job, and after the move, I didn't bother picking this back up again.

Drink tea before alcohol at home
Some success.
I didn't always do this when I was drinking (I have severely limited my alcohol intake since I fell ill in August), but there were a number of times when I got home, had a moment to chill, and instead of pouring a glass of wine, I made a cup of tea first.
Half the time I would stick with tea, and half the time I would legitimately say I wanted a drink.
My resolution was to do this every time, but there were a number of instances where I just wanted a drink and didn't care.
What's important to me is not keeping the resolution every single time, but instead, having the extra step that makes me thoughtfully consider.

Fast on Sundays and/or New Moon
Success.
I fast about every other Sunday, and most New Moons, for about a day and a half. This is good for my grocery bill, and for my detoxification.

Measure eating windows
Fail.
This felt like a chore, and while the data would have been useful, I ended up intermittent fasting on a more fluid schedule, listening to my body about what it needed. I may not have fasted as much as I could have, but I wasn't in it to lose a lot of weight, I only fast to stay healthy.

Forward bend every day
Success.
Having this as a resolution meant that I was on the lookout for places in my day where I could spend a few moments in forward bend. The train station turned out to be the best. When I arrived before the train, I found a secluded spot against the wall, putdown my bag, and bent over to stretch my hamstrings.
This also releases the tension in my lower back that accumulates from sitting in front of a computer all day.

Weekly date with each of my children
Fail.
This was, ironically, easier while they lived in the United States, and I lived in New Zealand. I could schedule the calls into my calendar, and devote 1-on-1 time to them.
This year, we had so much transition, and I had so little time, I couldn't keep 3 weekly appointments with each of my kids.
Now we have a weekly D&D gathering on Sunday nights, and that works better than what this resolution was trying to accomplish.

Send a newsletter every week
Fail.
I did this through the month of January, and my list started shrinking. Fast. I realized that my subscribers do not want to hear from me every week, and I'm not producing relevant enough content to be in that close of communication. I broke this resolution, happily, because sometimes breaking New Years' Resolutions is good for you.

Break fasts with salads for lunch
Success.
I only kept success for the first 8 months of the year, however. I had stopped eating breakfast entirely – increasing my fasting window, and eliminating a whole set of mundane tasks out of the morning, because I didn't need to feed myself before leaving the house – and I brought in a big green salad to work every day.
However, the health concerns I've had this year are exacerbated by too much raw green roughage, so when I needed to heal, I dropped this immediately.

Give a dollar every day
Some success.
When I was commuting downtown every day, I had plenty of occasion to see panhandlers, but I found it difficult to keep cash on me.Most of my purchases are done on cards, so I can easily track spending, so I had to go out of my way to make sure I had 1- and 2-dollar coins on me.
When I did, though, this resolution completely negated the inner turmoil I would feel when I used to see a panhandler. "Should I give to this person? Should I not? What will they do with it?" I could eliminate all those internal questions by just giving a dollar, feeling generous, and not being negatively affected. Even if I didn't do this every. single. day. I still feel like I earned what I needed out of this one.

30 days of video in a row
Fail.
I never made it to 30 days. I postponed until later in the year, because I was keeping quiet about my day job to my business clients, and keeping quiet about my business to my day job. This led me to feel creatively muzzled, like I couldn't really say who I was or what I thought. When you are producing a volume of content, you need to eliminate all friction. By the time my day job / business dichotomy was solved, I was too sick to devote extracurricular time to this.
I did get up to 10 videos in a row, once:

Find mentors for my children
Fail.
They have some great homeschooling classes – my wife has found an excellent drama class for them, and handles a lot of the homeschooling herself – but I did not prioritize finding them mentors in their new country.
Part 4: What are my resolutions for next year?
I've published that in a separate post. Read my 2019 resolutions here.