Caelan Huntress is a dynamic and thought-provoking speaker with an electrifying stage presence.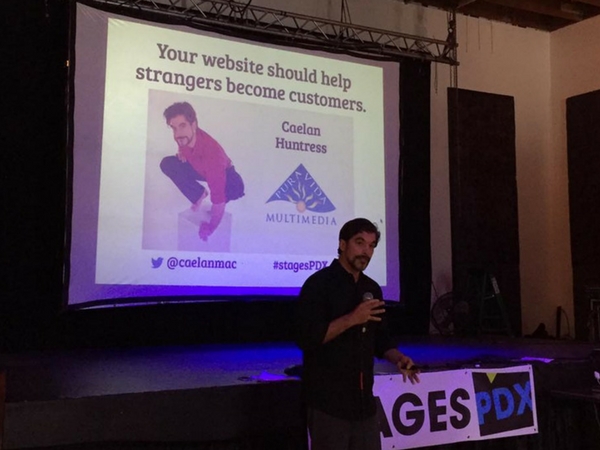 With a decade of professional theatrical training under his belt, Caelan knows how to keep and direct an audience's attention.
As the digital producer of webinars and programs created with clients like Jeffrey Gitomer (Sales Success Webinar Series) and Lisa Garr (The Aware Show) Caelan has contributed to powerful thought leadership in the fields of sales, digital marketing, productivity, and personal development.
Sales Funnels: From Stranger to Customer
Digital Marketing Made Easy
Selling Your Stuff Online
Waking Up Early
4 Cornerstones of a Stellar Platform
Powerful Communication Techniques
The 25 Habits of Father Fitness
Branding Your Business vs Branding Your Self
"You speak so eloquently! I've got so many light bulbs going off. Thank you!" – Cindy Starlight
"We were thrilled with the education Caelan gave to the participants in Stages PDX. His insights were illuminating and his advice was actionable. He spoke directly to the immediate needs and next steps of the entrepreneurs in attendance. We look forward to inviting him to speak at Stages PDX again." -Thubten Comerford, Organizer
"I recently attended Stages PDX in Portland, OR which was a working conference of entrepreneurs from many different industries.  There were lots of knowledgable speakers offering a diverse spectrum of content, tools and topics.  Caelan Huntress was one of these speakers and I found his talk to be one of the most powerful.  It was succinct, extremely relevant and I took copious notes due to the many tips, tools, resources and suggestions he generously offered!  He's personable, direct and knows his stuff!  I look forward to the opportunity to hear him speak again."  – Jill Knouse
Book Public Speaker Caelan Huntress For Your Next Event