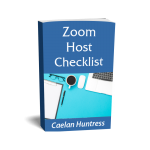 Free PDF
Download immediately
In this live, interactive workshop hosted by Caelan Huntress:
Play fun games and network with other business professionals on Zoom
Collect new tools for deeper relationships and stronger communities
Learn fun games you can lead in your own Zoom meetings
60 minutes
Friday, 9 December // Thursday, December 8th
9am AEDT / 11am NZDT // 2pm PST / 5pm EST
Chief Clown
Caelan Huntress
Marketing Strategist for Entrepreneurs
Register Here
"*" indicates required fields
Registering for this webinar will subscribe you to Caelan's Stellar Platforms Newsletter. No spam. Unsubscribe anytime.